Xth Cantus of I.C.T.S.V. Inter-Actief
Esteemed members of Information and Communicationtechnological Study Association Inter-Actief,
You are cordially invited by the Senatus Cantus to the Xth Cantus, an anniversary edition. Reserve your seat now, you don't want to miss this! This will be an evening you won't forget.
Don't forget about the dress code! For gentlemen, this means the Inter-Actieftie with jacket, for the ladies this means a neat blouse with choker.
Unfortunately, you cannot enroll for this activity anymore, as the enrollment period has ended.
Who, what, where, when...
Who

What

Xth Cantus of I.C.T.S.V. Inter-Actief

Where

Edu-café

When

Thursday 14 June 2018 from 20:00 until 23:30

Costs

9.00 euro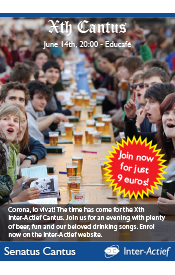 Dutch will be spoken at this activity.