FrieslandCampina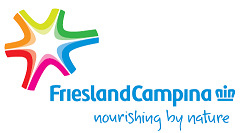 About FrieslandCampina
At FrieslandCampina, our passion to get more out of milk and help consumers grow and develop is shared by our 23,000 employees. Our shareholders, almost 18,000 farmers in the Netherlands, Belgium and Germany, supply more than 10 billion kilograms of milk per year to FrieslandCampina. Thanks to this milk we reach millions of people in over a hundred countries worldwide every day with more than 30 iconic brands. FrieslandCampina is a unique FMCG and B2B multinational. We are unique because our suppliers, our member dairy farmers, are also our owners. With an annual revenue of 11.3 billion euros, FrieslandCampina is one of the world's largest diary companies.
Why work in IT at FrieslandCampina
In 2020, the IT organization launched a new strategy organizing ourselves around nine IT platforms, for example Commerce, Supply Chain, Data & Analytics or IT Operations that have end-to-end responsibility for delivering IT services to the business. As an employee within IT, you will be part of one of these platforms and can expect to shape and implement our new technology strategy, facilitate decision making through data and AI solutions, set IT guidelines for the business and support digital transformation by automating processes.
About our Corporate Traineeship IT
Do you want to be part of building a highly capable IT organization to enable FrieslandCampina to win in the market with speed every day through scalable processes and technology expertise & services? As IT trainee you will be working in an international environment and collaborating with colleagues from all over the world. You will be working on topics like driving commercial effectiveness, implementing new business applications and supporting decision making through business intelligence and predictive analytics solutions. You start in a two-year trainee program, where you will be assigned to two projects of one year within your field. With your interdisciplinary trainee group you follow several trainings and participate in other activities that will boost your personal and professional growth. After the first year we assess together what kind of assignment would be good for your development. After the second assignment you will flow into a permanent position, which is a logical next step for your career within IT. Check out the experience of one of our IT trainees: https://youtu.be/uOAfJmJX24I
We also have Traineeships in other disciplines such as:
Finance
Commerce
Technology
Supply Chain
Interested? You can apply now for our Corporate Traineeship starting in March 2021.
Are you interested in an internship? Send an email to interns@frieslandcampina.com. For other vacancies please check our career website www.careers.frieslandcampina.com
We hope to meet you at FrieslandCampina!